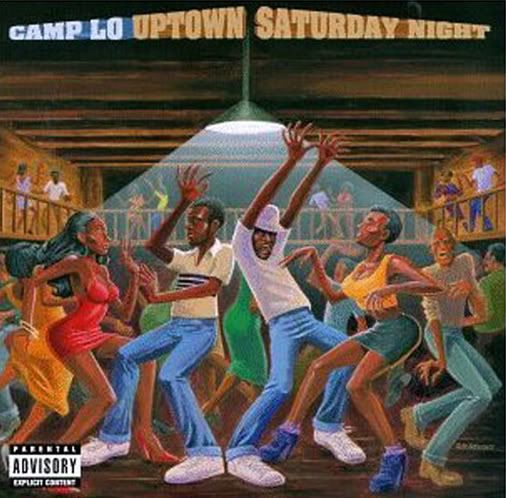 If you ever pick up this CD, a big if,you might first think Camp Lo seems like a logical name for a never known disco group... with the ever optimistic album name. But you will immediately notice a heightened sense of blaxploitation and from the first track it will be obvious that you are in for quite the surprise... Sonny Cheeba and Geechi Suede are two rappers almost exclusively known for their sparkling debut... the very same album your reading about right now. And these two men happened to pull one of the most acclaimed producers to do their whole album... Ski (the producer of most of Reasonable Doubt) is as much a part of Camp Lo as either of the two other members are. To describe their style you have to just as much understand the era they are trying to evoke: the 70's, and looking back they mimic the "blackface" or "minstrel", the waiter/butler/maid for the "hilarious, wholehearted" family. As a warning: I think any fan of hip-hop will enjoy either rapper's flow, but the lyrics are difficult to decipher at times.

The Good:

Track #2-Luchini AKA This Is It- Although this song has countless lines about violent, misogynist lifestyles it's ironcally a very upbeat song. To clear a confusion that probably won't ever occur... the Ill Will they are referencing is a producer, so not NaS's Ill Will.

Track #3-Park Joint- This is as close to a park joint that Camp Lo will ever reach. The beat fits the title, the lyrics are much too complex and vivid to be a "park" joint. The short rhymes work well.

Track #5-Killin Em Softly- The title says it all.... soft beat and the lyrics are straight murder.

Track #6-Sparkle- This beat is like staring out into the sky without a worry in the world... and the lyrics are just beautiful. Simply amazing.

Track #7-Black Connection- True hip hop fans will gravitate to this track simply because of the beat...which is easily the best off this album. Add the delivery and the lyrics... and you get one of the best songs of the 90's (not opinion, it's fact)

Track #8-Swing-This seems like an Pharell beat, with an abrasive drum beat which loops way too quickly. The beat subtracts from the most understandable lyrics off the whole album. Butterfly from Digable Planets spits a solid verse. Overall a decent effort.


Track#10- Say Word-A very strange song, but it sounds real good... I like the vocal sample being featured in the beat too... it sounds like Kanye West's "Wouldn't Get Far". This is a very refreshing track. It might take a while to get warmed up to though.


Track #13-Black Nostaljack AKA Come On- What is with this AKA ______ shit? The A.K.A. is always the last few words from the hook... this song tries to be nostalgic... it succeeds in some senses and fails in others. The "if your from ______ come on" message has been present in hip-hop from the beginning. The jazz on this track tries to be nostalgic but is in no way prevalent enough to succeed, and the weak ass Big L reference "I practice Gun Fu" does not succeed at all. Damn even 10 years ago people were "Gettin Fly"

Track #14-Coolie High- How ironic is it that this track was a single? Camp Lo actually selects a good song for a single. This represents everything that is right in hip-hop. Another one of the best songs of the 90's.... and I don't throw terms like that around all the time.


To conclude, this is one of the best albums released in the 90's, as proof I will offer this cute little antecdote. I began doing reviews as a reason to go through the albums I had not heard for a while, and ones I have never heard... I have more than 25,000 songs in my library. Problem is I only have an 80 GB Zune, so I need to delete at least 7,000 tracks. So I've been getting rid of intros, interludes, outros... and bad tracks. Most albums have been slashed in half by the dictatorial delete button... but this is the first album in which I was unable to delete one song... this album goes hard the whole way... there are a few misteps along the way, but the successes are much more prevalent. I strongly recommend this album to anyone who will read this review... one love.


0-20: Terrible listening experience
21-40: Maybe one good song
41-60: A few good songs
61-80: Half are good songs, half are weak
81-100: Great listening experience, almost all are great songs

I give this album a 81. It is fun to listen to but there are a few tracks that I just did not vibe to at all.
Here's a link:

What are you waiting for?